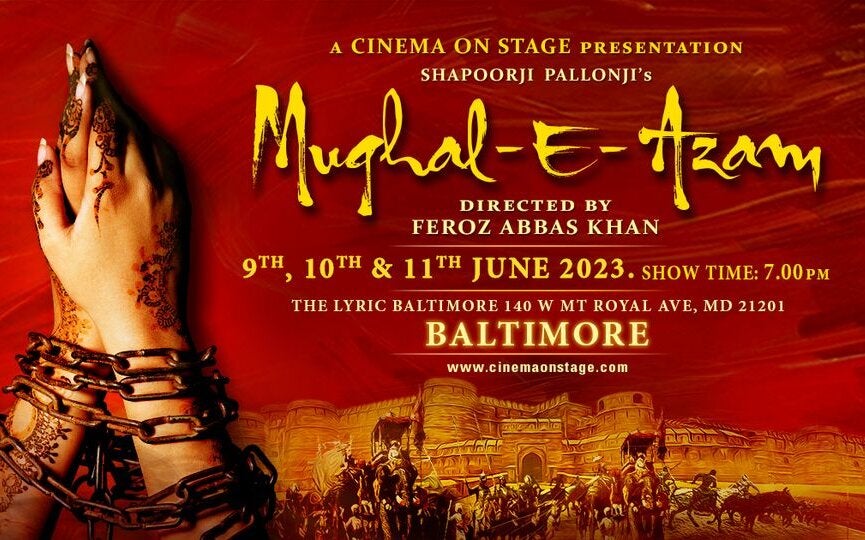 Mughal-E-Azam – The Musical
Date

June

9

-

11

, 2023

Doors Open

6:00pm

On Sale

On Sale Now
Mughal-E-Azam – The Musical
Event Details
After more than 200 spellbinding performances across six Asian countries, India's most spectacular musical play now premieres in North America. Based on K Asif's 1960 classic film of the same name, the play showcases India's rich culture of Kathak dances and classical music intertwined in a legendary love story.
For more than 60 years, the story of Mughal-e-Azam continues to enchant legions of fans across the globe. India's most expensive theatre production comprises mesmerizing dance sequences, spectacular lighting, extravagant costumes and live signing. To date, it has performed in Mumbai, Delhi, Ahmedabad, Dubai, Singapore, Kuala Lumpur, Muscat, Doha, and soon, North America.
India's first Broadway-style musical, with a cast and crew of more than 150 people, has been met with all-around accolades following its 2016 premiere in Mumbai. In 2017, it won seven out of the 14 BroadwayWorld India Awards, including Best Play, Best Director, Best Costume Design, Best Choreography, Best Original Set Design, Best Original Lighting Design and Best Ensemble Cast.
Mughal-e-Azam centers on the love story between Prince Salim and court dancer Anarkali. Upon learning of this forbidden relationship, Emperor Akbar vehemently disapproves and must choose between his responsibility towards his empire and his duty as father of a beloved son.
"This production is a tribute to K Asif's masterpiece, which has enthralled the audiences for over six decades," says Director Feroz Abbas Khan. "A love story that threatened an empire and the sheer audacity of a courtesan to challenge an emperor by declaring 'Pyaar kiya toh darna kya' is simply breathtaking. A musical of unprecedented scale, intensity and grace, this is perhaps the finest moment in Indian theatre. Come celebrate with us."